Pete's Story.
What is with the duck?
Now you might be thinking to yourself, what is with the DUCK? Well sit back, relax and I will tell you a tail!  The duck's name is Pete.  He is a mighty fine duck but he is a little ODD.
In the beginning……
When Pete was born he had an un-duck like passion for plumbing. As you might have guessed, there are not a lot of plumbing ducks and he was SHUNNED by his ducky friends.  Lost and alone, Pete began to wander looking for a place he could belong.
In the middle…..
He found himself on a beautiful pond one day late in May, a few years ago, lamenting his position in the world, Pete was totally BUMMED!  Looking up from his mighty fine lunch of bread crumbs, supplied by the local seniors, he saw a vehicle pass by.  A big, bright, yellow truck that said TAP 2 DRAIN PLUMBING.  He couldn't believe it!  Could this be where he belonged? Would they love him for himself? The yellow was HIS colour and his favorite thing in the entire world, PLUMBING!  In a flurry of short little wings, Pete shook his tail feathers and followed the truck to Tap 2 Drain's head office (The Nest, lol, no I'm not kidding).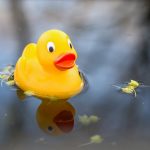 Hold up a minute…..
Let me stop the story here and tell you, when a DUCK shows up at your door and won't leave, you pay attention. Although we couldn't understand what he was QUACKING at us, it was perfectly clear he wanted to stay. Luckily for Pete, Tap 2 Drain was looking for that missing piece too.  Something or someone who could tell the world "TAP 2 DRAIN IS A COOL, FRIENDLY PLUMBING COMPANY WITH GOOD PEOPLE, HERE TO HELP AND MAKE THE WORLD BETTER!"  Pete just got it.
In the end…
With open arms we welcomed Pete into the Tap 2 Drain fold.  He is a superior duck and his PASSION for making people Smile is never ending.  Pete's favorite thing to do, what makes him happiest, is unclogging drains.  He is very handy with the drain clearing equipment, even though he has no hands.
Happily ever after…
Ever since Pete showed up on our door he has been an unstoppable FORCE!  I mean really, who can't help but smile when you see a big, happy, yellow ducky drive by or shake his tail feathers at a local home show.  He is the perfect DUCKY fit for Tap 2 Drain and we are super happy he has found his place in the world, with us, FOREVER!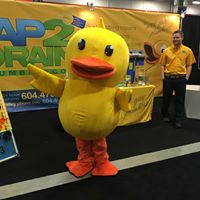 Along with Steve, Jen created Tap 2 Drain Plumbing to give clients exceptional service in their homes and businesses.   Always ready to make you smile, Jen believes in building the business with integrity and is one of the driving force behind the scenes at Tap 2 Drain.  "We treat clients the way we want to be treated, as family."
Latest posts by Jen Koehler (see all)